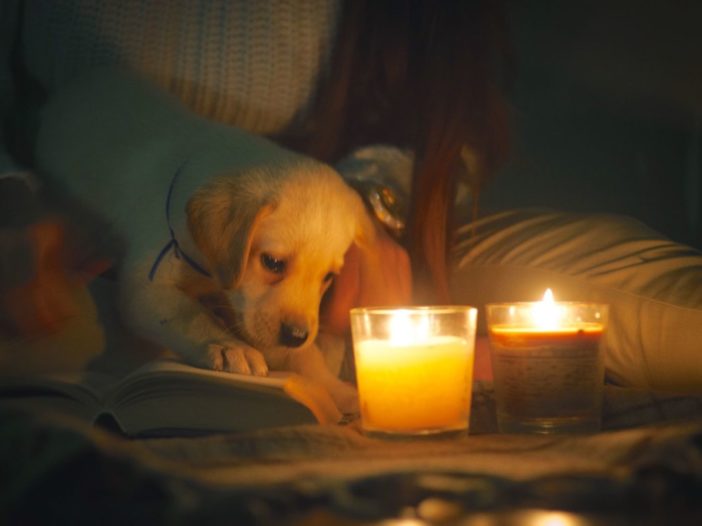 Why are candles bad for dogs?
You must be wondering "are candles bad for dogs?" the short answer is "No!", however just as human beings are attracted to the aromas of scented candles, it's not shocking that dogs and other furry babies are too. Dogs have a terrific sense of smell and can be drawn to more appetizing fragrances of delicious-smelling candles that you may have throughout your home.
Now before you start to worry too much, candles don't specifically pose a significant health risk to dogs. While it's always good practice to keep lit candles out of the reach of children and your furry friend, some candles can help to eliminate foul pet odors and offer other benefits such as aromatherapy, enhanced relaxation, and more.
Are you still concerned about a lit candle around your energetic puppy? No need to fret, there are other options available to you to keep your living space smelling great.
---
---
Risks of Soy Candles and Air Fresheners
While the scents used in Jojo's Soy Wax Glass Jar Candles are not harmful to your dog and other pets, there are some candles on the market that may contain irritating or harmful ingredients.
Some of these some air freshener products may produce synthetic smells that worsen existing respiratory conditions in people and pets, such as asthma, as well as dangerous chemicals like naphthalene and phthalates. In some cases, phthalates generated by burning candles have been suspected of disrupting the endocrine system, leading to other significant disorders such as diabetes and cancer.
Risks of Essential Oils
Another substance that can cause sensitivities in humans and pets is essential oils, which are used in some air diffusers and scented candles. Several essential oil varieties that should be avoided if you have pets in your home, as they have been shown to have a negative impact on the health of your pet. Eucalyptus, tea tree oil, wintergreen, pine, peppermint, camphor, and clove are among the essential oils used.
Depending on the concentration of the oil, even a few drops can cause illness, such as vomiting, diarrhea, seizures, depression, and other symptoms. Some oils can cause mild allergy symptoms or cough even when diffused. Given this, it's best not to apply essential oils directly to your dog's skin or fur.
Safe Scented Soy Wax Candle Options
Another common question asked:
How to make pet friendly candles?
While some scented products should be avoided for the health and safety of you and your dog, Jojo's Candle Company creates safe candles with 100% soy wax and 100% organic cotton wicks for a smooth, long-lasting burn. We can confidently answer the question, "Are soy candles safe for dogs?" with a "yes".
Soy wax burns cleanly and creates little to no airborne particles when used according to proper candle-burning procedures. These lovely candles can also assist to eradicate odors from your dog's coat and leaving your home smelling fresh. It's advisable to keep an open flame away from happy dog tails, just like any other candle, to avoid knocking them over and causing a fire.
If you're worried that a strongly scented candle will irritate your dog's sensitive nose, try burning it in a well-ventilated room to avoid irritating your dog's eyes and nose. Dogs have a remarkable sense of smell that experts estimate is 10,000 times more sensitive than ours. As a result, they may detect the presence of a new scented candle and sniff it out right away.
Because some pets may find the scents of our candles so appealing, there's always the chance that their keen senses will misinterpret it for a tasty snack. While ingesting these candles is unlikely to result in anything more than an upset stomach or diarrhea, it's a good idea to keep your unlit candle out of reach of your dog so they don't suffer from digestive distress and you can continue to enjoy delightful scents in your home.
Choose from one of our many Soy Wax Melts that produce a wide selection of delightful fragrances if you're seeking a wickless fragrant solution that doesn't pose a fire hazard. Soy wax melts come in a variety of aromas, from tropical to invigorating and comforting, to help disguise pet odors and fill your house with uplifting notes from your favorite aromatic ingredients.
What Are the Best Wax Melts and Which Ones Do I Avoid?
Wax melts come in a variety of shapes and sizes. The most common wax melts are made of paraffin wax or soy wax. Paraffin wax, a petroleum by-product, should be avoided. Always use a non-toxic, 100% natural soy wax melt that is free of lead, paraben, and phthalates. They burn cleaner than paraffin and last longer in general.
What Makes Soy Wax Melts Different From Soy Wax Candles?
Here's something to consider if you're trying to select between soy wax candles and soy wax melts. You may be as creative as you want with soy wax melts. You can easily play around with them by blending two or more distinct fragrances to create your own unique scent. For example, to make your own customized fragrance, blend a piece of Lavender Fields Soy Wax Melt with a piece of Clean Cotton Soy Wax Melt. You are not limited to utilizing one fragrance at a time when using soy wax melts, so get creative, explore, and have some fun mixing wax melts to create your own personalized fragrances.
How Do I Use Soy Wax Melts?
For Electric Warmers Only
Soy wax melts are incredibly straightforward to use. Simply place one or more of your wax melts in your warmer or melter then switch on your electric heat warmer. You simply switch off the heat source after you are finished using them, and the wax will solidify until you are ready to use it again. Simply turn the warmer back on when you're ready to use it again.
When you're ready to get rid of your spent wax melts, simply let them set, then heat them for a few minutes to loosen them up.
Bonus Question
What Scents Are Safe for Dogs?
Cinnamon oil, citrus oil, pennyroyal, peppermint oil, pine oil, sweet birch oil, tea tree (melaleuca), wintergreen oil, and ylang ylang oil are among the liquid potpourri and essential oils that can harm dogs. Contact with food and skin can both be dangerous.
Rest assured that all items sold by Jojo's Candle Company are absolutely safe for your dogs, cats, and furry babies.
Conclusion
If you enjoy burning candles in your house, you may fill your home with lovely scents while posing no health hazards to your dog if you follow the right safety procedures. When you buy any Soy Wax Candles or Soy Wax Melts from Jojo's Candle Company, you can rest certain that all of our products are non-toxic and free of lead, paraben, and phthalates, ensuring that your home smells fantastic and your dog is happy and healthy. "Are candles bad for dogs?" is a question we can confidently answer "No" to.
Some common questions searched on the internet:
Are bath and body works candles bad for dogs?
Are candles bad for dogs in the U.S.?
Are candles bad for dogs in California?
Some common questions also asked:
Are candles bad for dogs twitter
Are candles bad for dogs reddit
Are yankee candles bad for dogs?
Are candles bad for dogs with allergies?
Are candles bad for dogs with skin conditions?
Are candles bad for dogs with asthma?
Are candles bad for dogs with health conditions?
Are candles bad for dogs with diabetes?
Are candles bad for dogs with cancer?
Are candles bad for dogs with kennel cough?